If you're in Colorado, chances are you heard someone say "I'm going to climb a 14er today" or "How many 14ers have you climbed?" A 14er is a mountain peak with an elevation of at least 14,000 feet. In Colorado, we have 53 total 14ers. While the end goal is always to climb all 53, few have accomplished this task. In September 2016, Lindsay climbed her first 14er and it was Justin's 2nd.
Side Note: Driving to the top of Mount Evans is not climbing a 14er, but it is a really cool drive if you're in the area. The highest paved road in the USA! 
Mount Democrat sits on the Mosquito Range of the Rocky Mountains and is 14,148 ft. above sea level at the summit. Mount Democrat is a Class 2 out of 4 on the difficulty meter. It is the 29th highest peak in Colorado.
The trail begins with a slow ascent through fields of grass, wildflowers, and streams. A lovely beginning to a difficult end. Once you hit the base of the mountain things will change.  The trail narrows, some places are not marked, and you better believe you'll be climbing over rocks to get to the top. Oh and oxygen is hard to come by once you pass 13,000 ft. We felt like we were breathing through a straw. Don't let the false summit fool you. The real summit is a couple hundred yards farther and a couple hundred feet higher.
Side Note: It is possible to hit 4 peaks in one hike in this area (Democrat, Cameron, Lincoln, and Bross), but you better leave yourself enough time before the afternoon weather rolls through – high winds, lightning, and possible rain can make a descent all the more challenging, plus you can't outrun a storm at 14,000 ft. with boulders in your way.
Now, we understand that describing the experience sounds miserable in a way, but you can't even begin to describe the sense of accomplishment and beauty that await you once you summit. It's very surreal. You can see for miles and miles – a view that few see and many take for granted. It's truly astonishing. All 14ers have a sign at the top that you can hold and take photos with – a must do!
We are now addicted and can't wait to cross a few more summits off the list! If we can, you can too! Let us know if you want to join us on our next climb, we would love to have you!
Enjoy the Ride,
Justin and Lindsay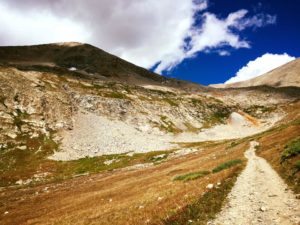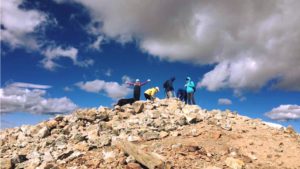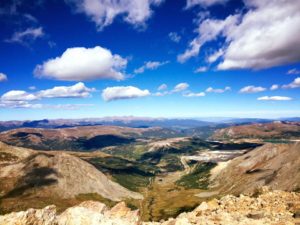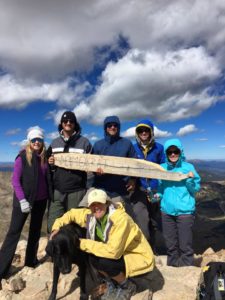 Place mentioned in the article
,